Büschel Connecting system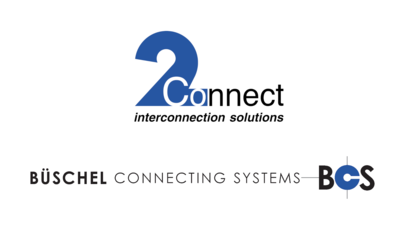 2Connect expands footprint with acquisition of Büschel Connecting Systems
2Connect, the leading Netherlands-based manufacturer of specialised cables and connectors, is pleased to announce the acquisition of Büschel Connecting Systems ("BCS"), as it continues its strategic expansion. The transaction is supported by 2Connect's majority investor, IK Investment Partners ("IK").
Headquartered in Waalwijk, the Netherlands, 2Connect specialises in producing bespoke interconnection devices, used in a range of applications from MRI scanners and agricultural vehicles to smart lighting. The addition of BCS is the second strategic add on acquisition for 2Connect since partnering with IK and is a significant milestone in its journey from local leader to international champion.
Based in Albstadt, Germany, BCS manufactures specialty high mix low volume connectors and specializes in high-precision connectors for high loads under harsh operating conditions. Following the acquisition, 2Connect will strengthen its positioning in Germany, unlocking synergies and cross-selling opportunities across the Group and expanding the technology and product portfolio to the benefit of all clients and new adjacent segments.
Commenting on the acquisition, Marc van der Put, CEO of 2Connect Group, said: "The acquisition of Büschel comes at a pivotal time for 2Connect as the speciality interconnection market continues to grow due to automation, miniaturisation and digitisation drive increased connectivity. This investment is an important next step in our growth strategy and will enable us to increase our market share in Germany and beyond. When we first partnered with IK in 2018, over 80% of our sales were generated by OEM customers operating within a 150-mile radius from our offices. In just over three years, we have increased our market share in the Netherlands and are accelerating our expansion across Europe."
Jochen Kauffmann, Managing Director of Büschel Connecting Systems, said: "We are delighted to be joining 2Connect, and look forward to working with the talented team to combine our expertise and customer footprint. The market for specialised connector systems is evolving as equipment manufacturers push the boundaries of technology, and we are proud to continue playing our part in enabling this."
About Büschel Connecting Systems
Büschel Connecting Systems (BCS) is a German based manufacturer of specialty high mix low volume connectors and specialises in high-precision connectors for high loads under harsh operating conditions. For more information, visit http://www.bueschel.com
About IK Investment Partners
IK Investment Partners ("IK") is a Pan-European private equity firm focused on investments in the Benelux, DACH, France, Nordics and the UK. Since 1989, IK has raised more than €14 billion of capital and invested in over 150 European companies. IK supports companies with strong underlying potential, partnering with management teams and investors to create robust, well-positioned businesses with excellent long-term prospects. For more information, visit www.ikinvest.com
---