2Connect TechCenter
2Connect TechCenter for OEM & ODM B2B cable solutions
We design and manufacture innovative custom-made cable solutions at the 2Connect TechCenter in Waalwijk, the Netherlands. The centre enables us to offer a responsive service to our customers, provide a short time to market and immediately react to any changes in the development process.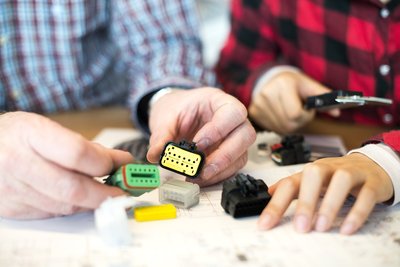 Meet our engineers in the 2Connect TechCenter
We develop prototypes of your interconnection solutions at the 2Connect TechCenter. This enables product developers and our engineers to maintain close contact with each other. They consult with one another at the TechCenter to devise interconnection solutions. The products in question include special cables, moulded and customer-specific connectors and electronic packaging and interconnection modules.
Time-to-market and supply chain
The prototyping and production of the 0 series are carried out at the 2Connect TechCenter. The centre also performs, among other things, mould construction, microscopic assembly and overmouldings. This enables us to provide a short time to market. When it comes to series production, however, we switch to our state-of-the-art facilities in Romania. This plant and our logistics services offer an optimised supply chain service.
---